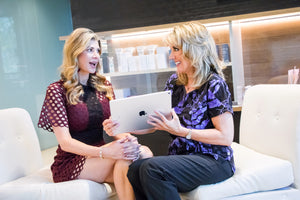 Oncology Esthetics & Permanent Make-Up Artist
Committed To Bringing Out The Best In Others
When it comes to feeling your most beautiful, there's simply no room for compromise. For more than 25 years, Cyndi Allcott has lived by these words, working alongside some of the world's most prestigious Board Certified Plastic and Reconstructive Surgeons. She's made a name for herself by keeping her clients satisfied and looking their very best, using the most advanced skin care techniques and products.
Cyndi looks at each client's individual needs and goals, and then creates a unique treatment plan, expressly for that client. Each year, Cyndi spends hundreds of hours in formal training and researching the latest, most promising offerings on the market; when you also consider her numerous certifications and the expertise that comes with serving more than 3,500 clients, you can have the utmost confidence that she knows what works and which products and techniques will make skin look its youngest and healthiest.
Permanent
Make-Up Artist
Since 1990, Cyndi has been a highly sought-after permanent makeup artist, using the technique to help her patients achieve subtle, natural beauty. In addition to performing thousands of procedures, Cyndi has earned the titles of Master Technician and Permanent Makeup Artist Instructor.
She also uses her permanent makeup skills in the service of cancer survivors, in the reconstructive portion of areola re-pigmentation.
★★★★★

"Cyndi is an amazing skin care specialist. I recently became one of her clients and am thrilled to have her treating my skin. I feel completely revived after my treatments. My makeup applies so smoothly, and it is the best my skin has ever looked. After just one of Cyndi's treatments, my skin feels like I have been sitting in a day spa getting facials for a week! Cyndi herself is very personable and easy to talk to. The sessions with her are relaxing and go by quickly. My skin instantly feels soft and hydrated, like I have been drinking gallons of water. I feel beautiful even without makeup on. Cyndi is wonderful, and I recommend her to everyone." 

Gretchen Rossi

The Real Housewives of Orange County
★★★★★

"I came to Cyndi at a time in my life where I really needed a quick way to feel better about my skin. Because she was in a Board Certified Plastic Surgeons Office and had been doing chemical peels for over 20 years, I felt safe and confident in her recommendation for a TCA Peel. After the procedure, I looked pretty scary for about 5 days. But when the dead skin peeled off, it looked amazing. After my peel, Cyndi put me on an easy to follow home-care regimen of medically-proven products that have since kept my skin in great shape. I now come in for my monthly designer treatments, which always include Intraceuticals Oxygen Treatments. As a model and busy mother, it is nice to know that Cyndi is so passionate about keeping all her clients up- to-date on the newest and best treatments and products available."

Pamela
★★★★★

"Cyndi is extremely caring and knowledgeable. She makes sure I understand everything she is doing throughout any procedure, which is comforting, reassuring, and professional. The results exceeded my expectations – my skin has never looked better. Her oxygen facials make my skin feel brand new, just like my daughters'! Cyndi recently tattooed my eyebrows, and they look unbelievable. I used to think I could never leave the house without makeup. With Cyndi's treatments and products, now I'm confident I can. She has me using a home regimen of three products: Dermaquest, Neocutis, and Intraceuticals. They are working wonderfully. My sunspots are fading and my skin looks beautiful. I am very happy with the results. Everyone said that Cyndi was the best – now I know that she is." 

Alexis Bellino

The Real Housewives of Orange County
★★★★★




"Having Cyndi as my personal aesthetician has been a real relief. As a very busy business owner, it is difficult to find the time to research products that will actually work on my skin. I have found that Cyndi is constantly up to date on the newest and latest advances in skin care. I don't want to waste my time and energy using things that are not beneficial to my skin. She is passionate about keeping her clients' skin in excellent condition. And my permanent makeup has also been a real time saver. I love the fact that even if I have put in a lot of hours with my business, I never look quite as tired as I used to. When I vacation, my trips to the pool are now a pleasure because even after a swim, I still look great." 

Dianne Burnett

Entrepreneur and business owner
★★★★★




"I must admit, I was rather skeptical about the microdermabrasion approach to skin care after an unpleasant experience a year ago. Obviously, I was in the wrong hands! My skin is extremely sensitive and requires expert skin care tailoring. Well, along came Cyndi to save my day and my skin! I decided to let her treat my skin with her special talents and technique. My overall skin texture and fine lines have noticeably improved. I am thrilled with the results from Cyndi's skin care guidance and knowledge. I am truly grateful for Cyndi and respect her years of skin care experience and enthusiasm." 

Judy Akin

R.N., M.S.N, P.H.N./Nurse Educator
★★★★★

"I thought about having my eyeliner and eyebrows done for years and I am so glad I waited! I have seen so many bad jobs out there and was very reluctant to have it done. A friend recommended Cyndi. When I found out the quality of the plastic surgeons Cyndi worked with and saw my friend's permanent eyeliner, I was sold. My permanent make-up has been applied perfectly and looks completely natural. It has definitely been one of the best things I have ever done for myself. The procedure was much easier than I had anticipated, and I highly recommend it to every woman. I drive 2 and a half hours to see Cyndi when I need treatments. She is the best!" 

Sue Bennett

Owner of Santa Barbara Seafood Restaurant