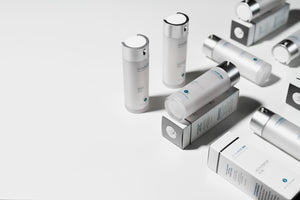 About
AnteAGE MD
Treat Your Skin - Naturally younger, healthier looking skin is within reach. The AnteAGE® System is packed with 18 active ingredients clinically proven to reduce the visible signs of aging.
AnteAGE MD System
AnteAGE MD System is a powerful duo to take on all of your skin concerns in just two simple steps.​
The AnteAGE MD Serum restores and protects with a fast absorbing formula of concentrated growth factors, antioxidants and peptides.
AnteAGE MD Accelerator is packed with powerful actives including vitamins C and E, bakuchiol, a retinol alternative, and growth factors to activate repair at the cellular level.
​Use serum pre-procedure to prep the skin for optimal recovery.
Use post-procedure as a topical adjuvant following laser, microneedling, abrasive, and other ablative or collagen inducting treatments.
★★★★★

"One of the best compliments I've had. I ran into someone I hadn't seen in a couple months….Wow – you look really beautiful!"
★★★★★

"I was having some cocktails with friends of mine a couple evenings ago and they didn't know about the trial we were doing– this woman hadn't been aware of it. And she was like, "What have you been doing? Your skin looks phenomenal."
★★★★★

"It just really works and my skin feels alive. It feels so good. It feels like my skin is breathing– which I've never experienced before. The creams that I've used, and I have tried some high end stuff, nothing quite like it. It just really works and my skin feels alive."
★★★★★

Even when I was in my twenties, I never got that type of compliment. the results that I got with AnteAGE were far and above my expectations.

People come up to me and say, "Oh your skin is glowing! What are you doing? Have you changed anything that you've done to get this youthful glow." Even when I was in my twenties, I never got that type of compliment.

Los Angeles, CA
★★★★★

Add customer reviews and testimonials to showcase your store's happy customers.

Author's name

Los Angeles, CA